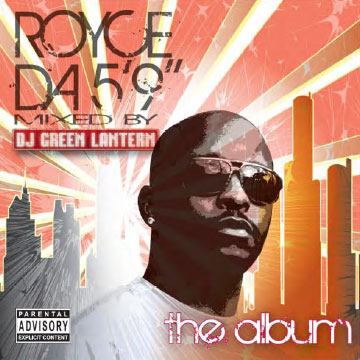 Track Listing
1. Promise Land
2. Heat To the Streets (feat. Kid Vishis)
3. Give Up Your Guns (feat. Talib Kweli / Raekwon)
4. J Ro vs. Mike B (skit)
5. We Deep (feat. Trick Trick)
6. Rewind
7. Gun Music
8. Bad Guy
9. Let's Talk (feat. Black Milk)
10. We Everywhere (feat. Kid Vishis)
11. Been Shot Down
12. Angel
13. On The Low
From the time he spit on Bad Meets Evil with Ememin most people knew this dude was destined for greatness. A Detroit native who keeps the swagger at an all time high. Royce has been flooding websites and mixtapes as of recent. He's been working hard with Joe Budden and some other Slaughterhouse peeps. Royce has also been keeping in the family with projects with Black Milk and Elzhi, more Detroit concoctions for you.
This album/mixtape from Royce is a pretty solid pick up. Production includes Green Lantern, 9th Wonder (another cat who is submerged in the craft these days), Nottz, and Black Milk. The album is pure Hip Hop banging at its greatest. If you were feeling Rock City, Death is Certain, any of the M.I.C mixtapes... you'll bang this. Royce for some reason seems stronger these days than ever before to me though. His flow seems to have a freshness to it... Maybe it's just because he seems to be everywhere I turn now. Can't knock that by any means. Don't be fooled by the "Mixed by DJ Green Lantern" print on the album cover... Lantern did no mixing, unless he mixed the track order. He has a hand in some of the production, but that's it.
If you can bob your head to this, I'd advise you to check out Elzhi's - The Preface, Black Milk's - Tronic.
I'm going to let you all go now so that you can spend some of that good check money on this new album and spend your weekend getting the experience.
Keep Hip Hop Alive, One Bar at a Time.
Over and Out, DocBoone